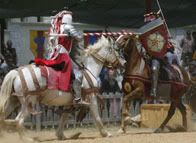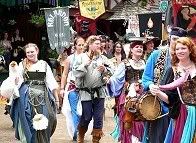 My wife, I and our wee baby girl have visited
Scarborough Renaissance Festival
near Dallas several times this year. We always find it quite entertaining…
and
it's almost over. So, join the King and Queen and all the villagers and guests on this the final weekend of
Scarborough Renaissance Festival
before the gates close on its 29th season!
As their website says,
"Step through the gates of Scarborough Village and feel your cares slip away. Thrill to the thunder of hooves and crash of lance on shield at the joust. Watch in amazement as birds of prey swoop just inches above your head at the command of the Royal Falconer.

Enjoy swordplay, comedy, music and other unique entertainment on 21 stages. Witness artisans create one-of-a-kind works of art. Browse 200 quaint shoppes for unique handmade jewelry, clothing, leather goods and other offerings. Feast like a King on food and drink from around the world.

Grab a turkey leg and stroll among the villagers of Scarborough. Spend the day in the 16th Century and have the time of your life"
To purchase tickets click here. Please note: I do not work for the faire, and my views may not represent those of its management, yada, yada, yada. And no, sadly they do not pay me for this free publicity. Must work on that. We are just happy customers, and wanted to be sure if you are in the area that you don't miss your last chance to attend this year!