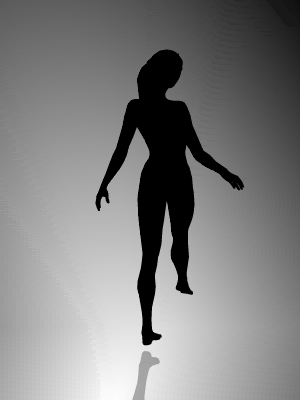 When you look at image above, what do you see? A girl spinning? Which way is she spinning… clockwise or counter-clockwise?
Supposedly if you see her spinning clockwise it means you are
right brained
, and if you see her spinning counter-clockwise you are
left brained
. And if you see both, I suppose it means you are schizophrenic? Here are the purported characteristics of people with dominate right or left brain hemispheres:
Left Brained: Counter-Clockwise = "Rational"
Responds to verbal instructions
Problem solves by logically and sequentially looking at the parts of things
Looks at differences
Is planned and structured
Prefers established, certain information
Prefers talking and writing
Prefers multiple choice tests
Controls feelings
Prefers ranked authority structures

Right Brained: Clockwise = "Intuitive"
Responds to demonstrated instructions
Problem solves with hunches, looking for patterns and configurations
Looks at similarities
Is fluid and spontaneous
Prefers elusive, uncertain information
Prefers drawing and manipulating objects
Prefers open ended questions
Free with feelings
Prefers collegial authority structures
So, what do you see? Does the direction you see her spin and the corresponding description above describe you? Post your comments below. And if you ask real nice, maybe I'll tell you how to see her spin the
other way
. Oh, and if your wondering what the direction
really
means, I'll be happy to tell you that, too… later.
But first… what do you see?
Okay, here's my opinion on all the above
(added Friday, September 25, 2009)
A few thoughts on the graphic. First of all, it really isn't rotating at all. It's a 2-dimensional set of still images, that when viewed in sequence (as an animated GIF) are translated by our brain as 3-dimensional movement. And it could be viewed by ones brain as rotating in
either
direction.
In fact, one person said they saw it rotate half-way one direction, stop and rotate back the other direction and repeat each time. I'm a bit concerned about what that says about that person's brain, but it's an entirely possible and valid way of seeing the image.
As Shannon said below in the comments, it is (or at least may be) possible for most of you to control which direction the image turns. The best way to do this is to focus on the lower foot only. Imagine it going the other direction, and you will likely see it do so.
Once that's happened, the entire image should rotate the other direction, of course. If you have trouble seeing this, put your hand over all but the lower foot and focus just on it. Then once you see it change direction move your hand. See it now?
As for whether this says you are left or right brained… I doubt it. In fact, the generalizations of characteristics for those with brain hemisphere dominance on one side or the other is… well… a generalization. We all, unless brain damaged, rely on cooperation between both halves.
So… can you do it? Can you change directions? Post a comment and let us know.